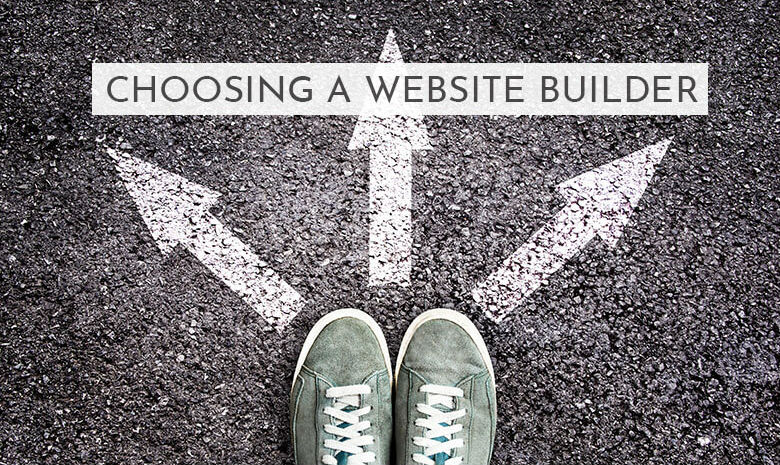 16 Dec

How to Find a Good Website Builder

It's 2019 but by the time you're reading this, it may well be 2020. At this point, we hope you're not questioning why you need a website. What's more, we hope you're aware of all the reasons your website needs to be updated to suit post-modern browsing trends. In case you're not sure about what's required for a successful website, allow us to get you up to speed before we get into what you need to look for in a great web designer. Your website needs to be responsive; that means you need it to look good on different kinds of devices like smartphones, tablets, and PCs. You need your website to have good SEO; that means search engines will place it towards the top of search results. You need to think of your website as the digital storefront for your business; your brand – what you do and why you're unique should be readily apparent to people who visit within seconds. Your website is one of your most important marketing tools; that's why you need to find the best web designer for a new site or a redesign.

What makes a web designer the best, though? You've probably heard of the project management triangle, often discussed using the phrase "cheap, fast, and good – pick two." What this means is that the quality of the work created is always constrained by the project's budget, deadlines, and complexity.  A great web designer, then, should deliver a website that suits all of your needs, in a suitable time frame, and within your budget constraints. Let's tackle all of those criteria in order.

Your needs will vary substantially depending on what type of business you run. Let's say you're a local restaurant. You probably won't need more than a homepage, an "about us" page, a "contact us" page, and a menu page. You may also need special pages constructed whenever you're running special events, and you might want a "book online page" if you want to integrate software like BookedIn. Conversely, if you're a B2B business selling kitchen supplies, you'll likely need a lot more work done. Automatic updates of what's in stock, a secure checkout, automated shipping updates – the list goes on. Write down exactly what it is you need for your website, from what's absolutely necessary to what you would like but could live without. Establishing this hierarchy will make it easier to cut certain features if necessary.

Now that you've established what's required for your website, you can start looking into aesthetics. You may already have some ideas about how you want the site to look; you'll probably want to use your brand colours and you may have an old website whose skeleton you can use for inspiration. For even more ideas, look at other websites with eye-catching designs. Make a list of those websites and write out what you like about them; preferably, look at websites with features similar to the ones you want to integrate. This isn't to say you should copy other websites; some people argue that there are no truly original ideas. Finding inspiration isn't theft and the way you envision your website isn't necessarily going to translate perfectly from your mind to the page. That said, the better an idea you have of how you want your site to look, the easier it will be to find the right web designer.

Now that you've figured out roughly what you want your website to be, you can start to determine budget and time frame. Website designing varies greatly in cost – you could probably find a student to do the work for much less money than a team with an extensive resume who might charge you hundreds an hour. The quality of the work will vary, of course. Prices will also be affected by how quickly you want the work done and how complicated the work is. This is where the hierarchy of features will come in handy –  if there's a feature that's unnecessary, too expensive or time-consuming, you can cut it. 

A quick note on budgets before we find you your perfect web designer. The initial cost of creating a website is only one piece of the budget you require because websites need to be maintained. The SEO efforts we discussed at the top are relevant here. Search engines change their algorithms all the time so it's essential that you keep up with those changes in order to stay near the top of search engine results. When you consider making a budget for web design, it's important to have these ongoing costs in mind. 

With your budget established, it's time to find a web designer. One of the best ways of doing this is to take the inspiration list you created and get in contact with the business owners of those sites to ask which web designer or web design company they used. Sometimes the web designer will have already branded the pages with their logo (usually near the bottom of the site). You already have proof that you like their work but it's still prudent to review their portfolio and see if their style is in line with your vision. Finding a web design team is often your best bet as they'll have the resources to build the site, test it, and make revisions before it goes live. Once the site goes live, the same team will be able to help with maintenance and SEO.

Once you have a list of web designers you're interested in, get in touch with them. Tell them what your ideas are for your site, how you'd like it to look, what sites they've made that you feel are in line with your vision, and what your budget is. Write down a number of quotes and time frames to compare. You've put in a lot of work at this point, and it's about to pay off. You know what you need, how much you're willing to spend, and how long you're willing to wait. Once you pick out your perfect website designer, make sure that all the design and upkeep costs are clearly laid out in a contract. 

Here at Odd Duck, we handle all of the things we discussed in this article, from helping with the initial design to optimizing your site for search engines. What's more, we see your site as a central piece to an overarching digital marketing strategy. Social media, pay-per-click advertising, reputation management, and branding all play an important role in the digital landscape. Get in touch with us; we'll be happy to bring your dream site to life.