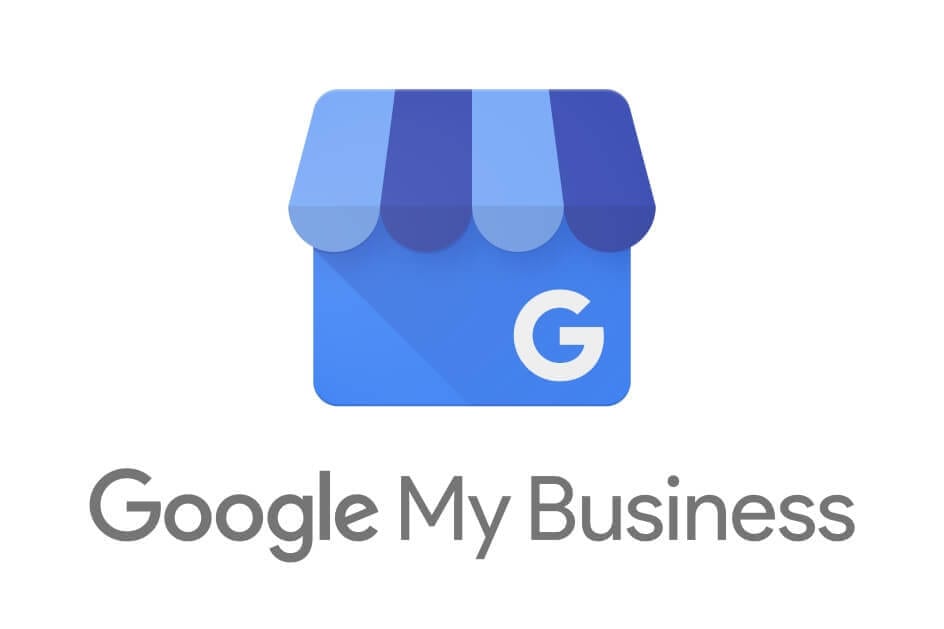 12 Jan

Unleash Your Google My Business

Managing your Google My Business listing has gone from a marketing perk to a marketing necessity over the past few years. Google, as they always do, has constantly tinkered with and improved upon the user-friendliness of the GMB platform for marketing managers, and has made the listing even more accessible and helpful for customers searching online. If you're not maximizing your Google My Business listing, you're not getting the most benefit from its existence.

Lucky for you, the San Antonio SEO team at Odd Duck Media has put together this helpful guide to break down what you should be doing with your Google My Business listing, how to do it, and why you should be taking advantage of all of these features.

Claim Your Listing

It sounds obvious, but it's still something that many businesses miss out on. In order to manage and utilize your Google My Business listing, you've got to claim your listing. If you haven't claimed your listing yet, there are a few options available for you.

First, check to see if your listing exists. Even if you're not managing it, it may already be listed online. To see if your listing is published, go to Google and type in your business name and address.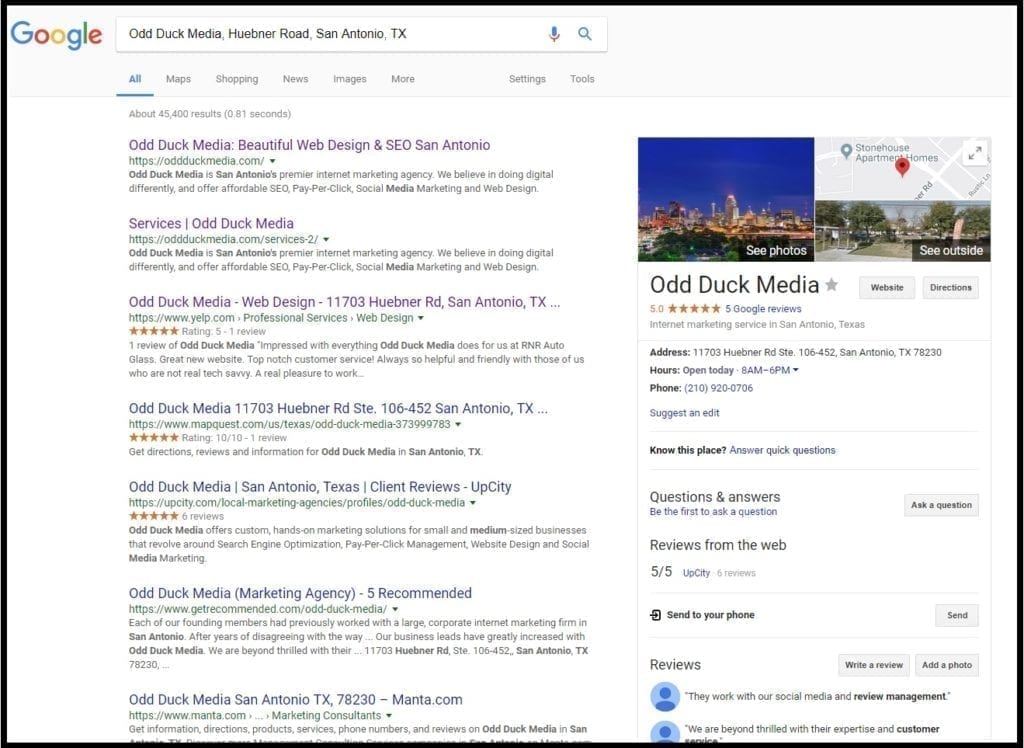 If your business is already published, you'll see a Google My Business listing shown on the right side of the page. See below: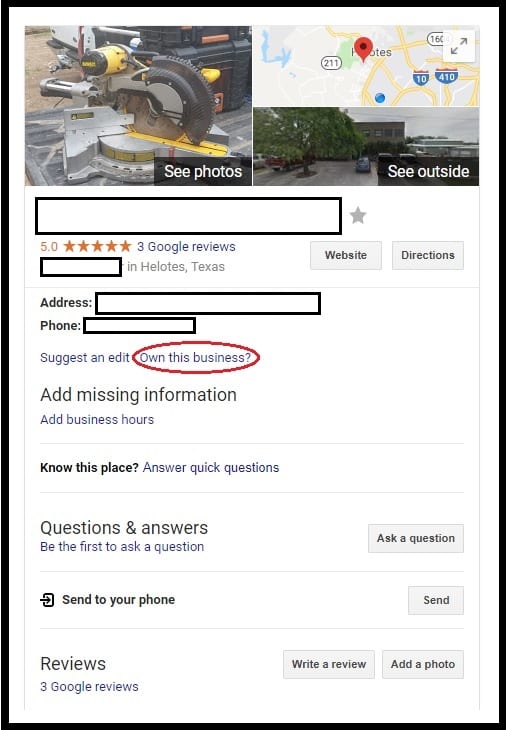 In this situation, the claiming part becomes relatively easy. You'll see a link at the bottom of that listing that says "Own This Business?" Click that link, and follow the on-screen directions to claim your listing.  You'll have to verify ownership of your business, which typically requires a postcard to be sent from Google with a verification PIN. Sometimes, you're able to verify the listing by answering a phone call on your business line and getting a verification PIN from the call.
If you're not seeing your business show up, that means there is no listing for you yet. In that event, go to the Google My Business home page, click the "Start Now" button in the top right corner, log in with your Google account, and follow the on-screen directions to create a new listing.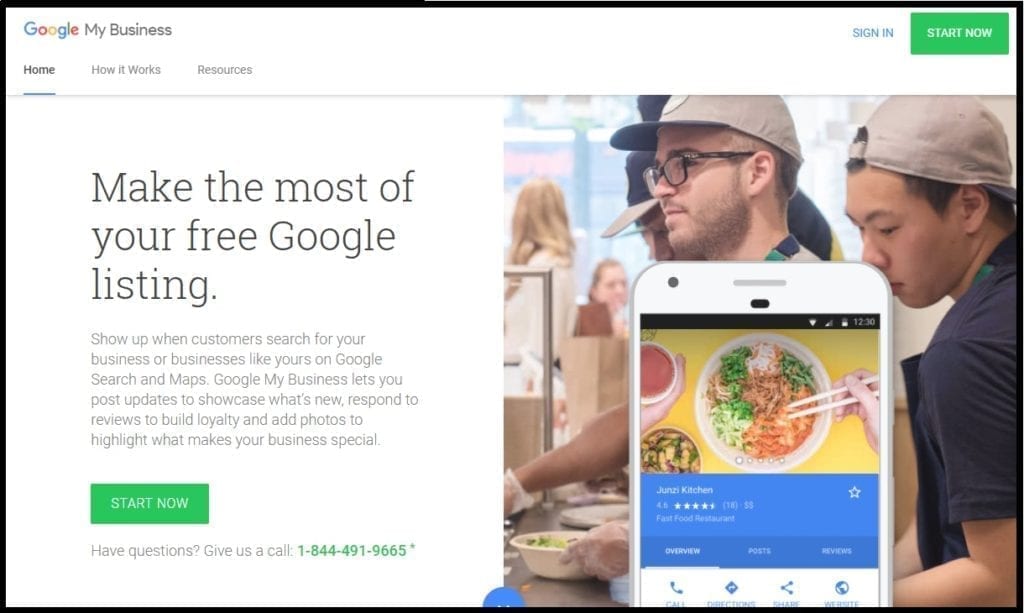 Set Up Your Listing
Once you've claimed your listing, you need to either fill in all your business information and details, or update the existing ones to verify their accuracy. Among the items you'll need to update are empirical data, such as:
Business Address
Business Phone
Business Website
Business Hours
Sure, these are important things to list, but don't forget to flesh out your profile with more of the details that help make your business more accessible to customers. For these, you'll want to consider:
Updating holiday or special hours
Adding a logo
Adding photos of your works
Adding what type of environment your customers can expect in your location
Adding what types of payment you accept
Adding additional categories to match your services
Adding a special website address for menu, order ahead, etc.
Finally, you'll need to also turn on features that are less about customers, and more about helping you maximize your data collection. When looking at your Google My Business Dashboard, you'll see an option to connect your listings to Google Analytics and Google AdWords. Without doubt, you should connect your listing to Google Analytics. AdWords, however, depends on your marketing strategy.
To connect your listing to either service, simply click on the "Get Started" link in either section. Follow the on-screen directions and you'll be able to set up the connection easily.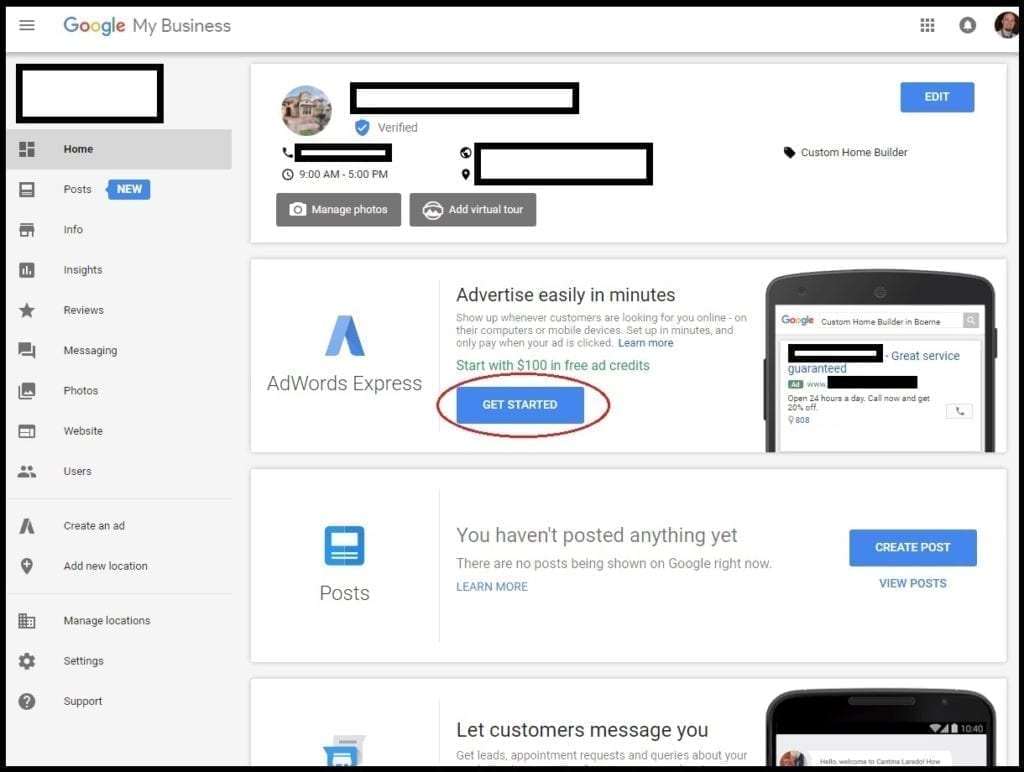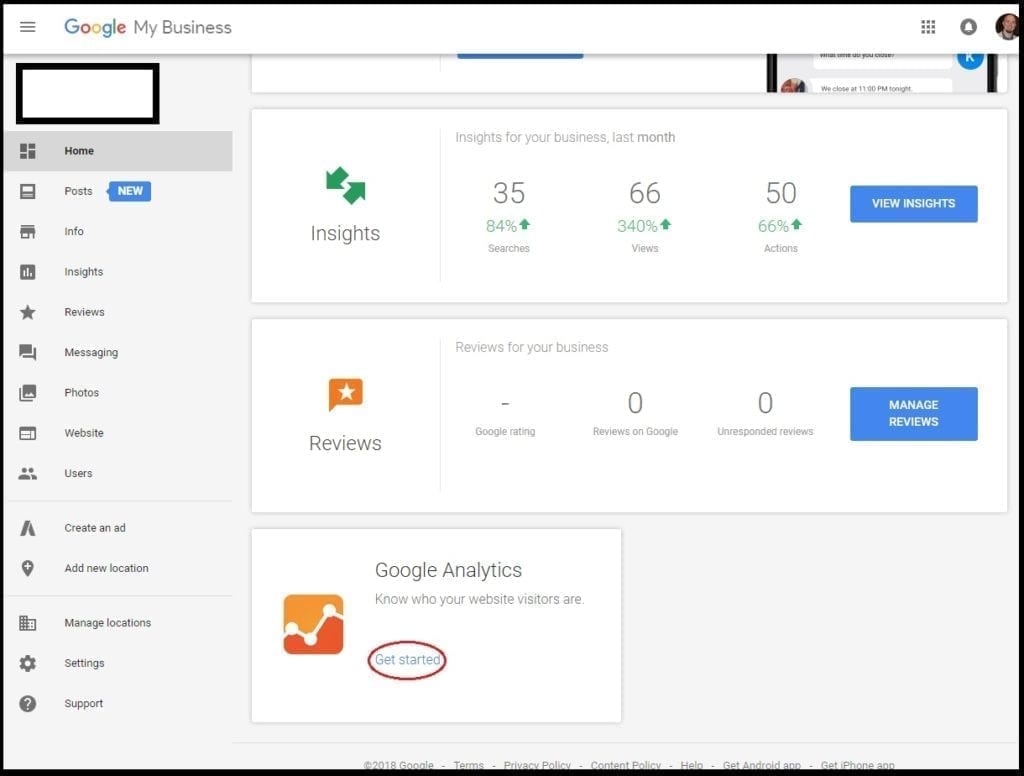 Manage and Reply to Reviews
Once your listing is verified and published, you'll be able to receive reviews from customers on Google. These reviews are extremely important, not only for the way they portray your business to future customers, but also because the number of them (and how frequently you respond to them) factors into your Google My Business listing optimization. The more effectively you manage this, the more likely your listing is to be shown to customers searching for businesses like yours.
I'm also going to dispel a common misconception: you should respond to every single review that your business receives, not just the negative reviews. Doing so not only allows you to connect more openly with customers, but also boosts your listing optimization. Take advantage of every opportunity to promote yourself!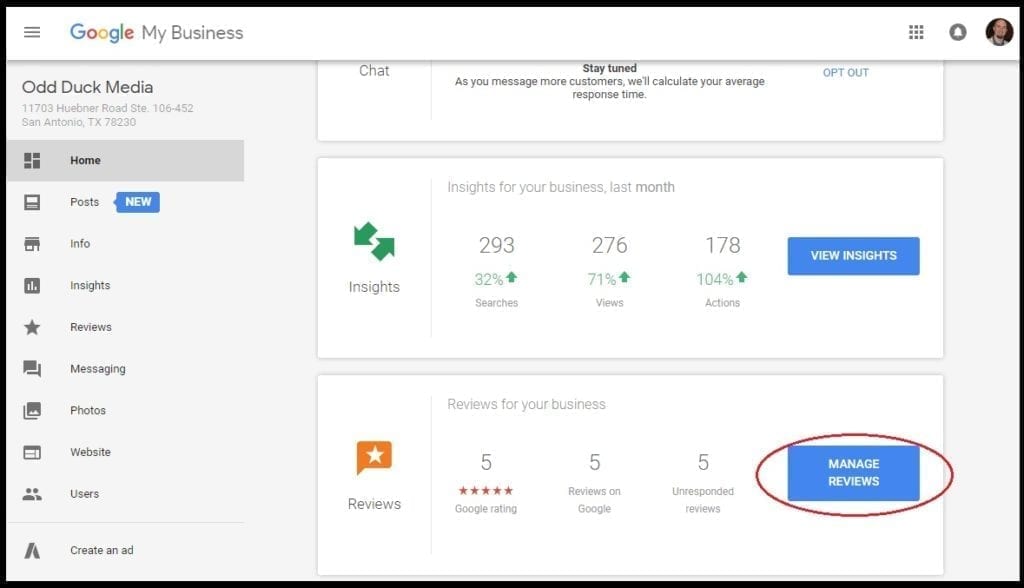 In order to reply to your reviews, go to your Dashboard, and then visit the "Reviews" section. There, you'll be able to see the most recent reviews in chronological order. Click on the review you'd like to reply to, and pen your response.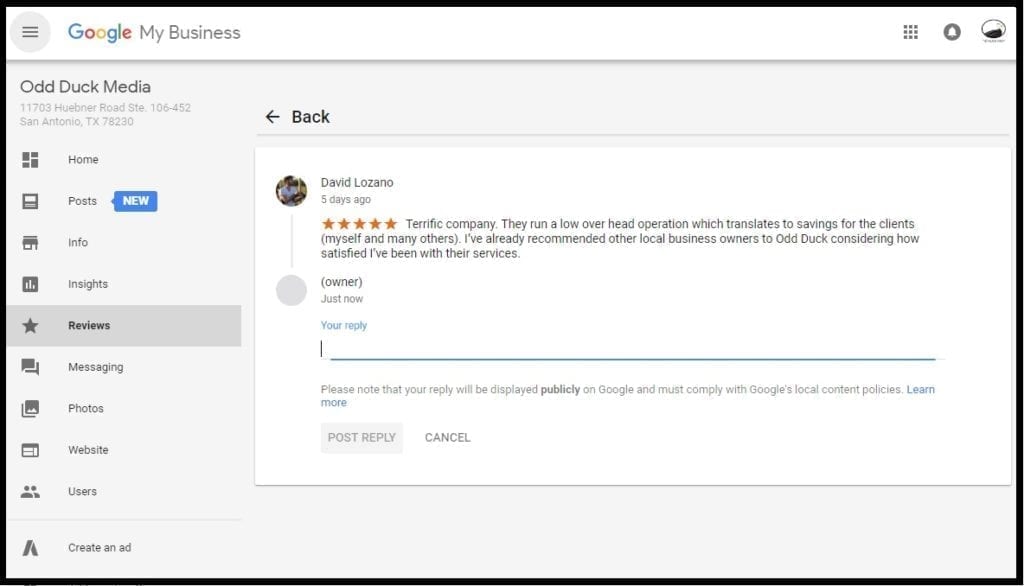 Be wary, though. You want to keep your response professional, cordial, and succinct. Don't ramble and write an entire thesis, and definitely never get into a blaming game with a customer if you receive a negative review!
Publish Posts
In 2017, Google introduced a cool new feature in GMB that allows businesses to post pictures and text to their listing page, almost like a social media account. With this, you can also create "events" or specials, and include a button that links to a landing page.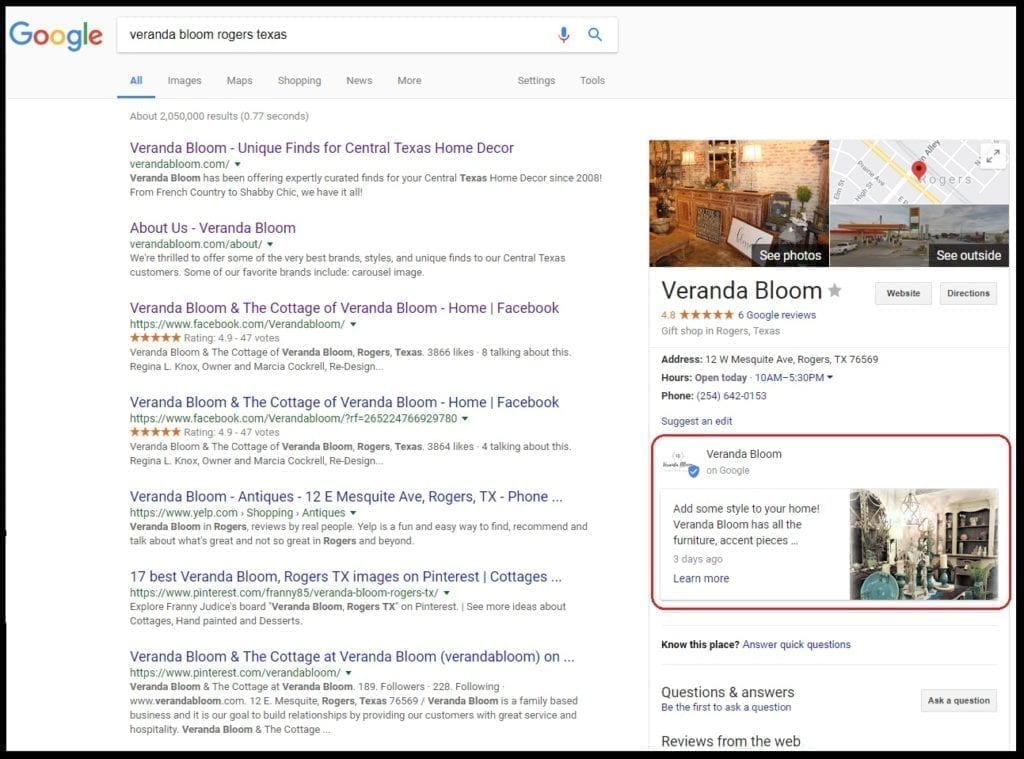 If you're a business that offers specials, promotions, events or has cool new details to promote and update your customers about, doing Google Posts is a great way to get the news out, get in front of your clients, and be much more visible online.
Even if you're not a business that experiences much fluctuation in your pricing, services, or events, submitting posts on a regular basis helps your overall optimization and interaction with customers, which in turn means that you'll be ranked higher in Google searches and can be seen by more potential customers.
So, essentially, no matter what the status of your business, you should be finding something to post and promote as often as possible. Personally, we recommend that you publish a post at least once per week, but at least once every-other week at an absolute minimum.
Activate Messaging
Another feature that was introduced in 2017, Google also allows customers to message your business directly from the Google My Business listing. That helps expedite the communication process between interested customers and your team.
This can be extremely helpful if you have set pricing that doesn't vary based on job type, as most customers tend to reach out to ask about your availability or pricing. Either way, turning this feature on allows you to connect with potential revenue much quicker and more immediately.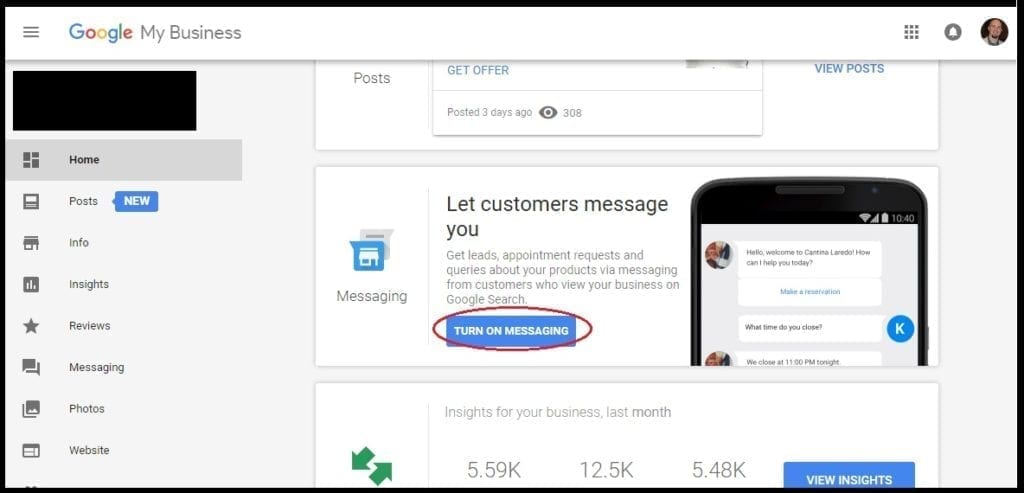 To turn this feature on, go to your Google My Business Dashboard and find the "Messaging" section. From there, you'll see a button that says "Activate Messaging." Click that, and follow the directions provided so that you can start actively communicating with customers on the fly.
Add Virtual Tour
Finally, if your business services customers in a brick and mortar location, you may want to consider getting a 360-degree virtual tour to place on your Google My Business listing. This will help customers know more about what to expect when they arrive at your location, and will help to reinforce the quality of your business.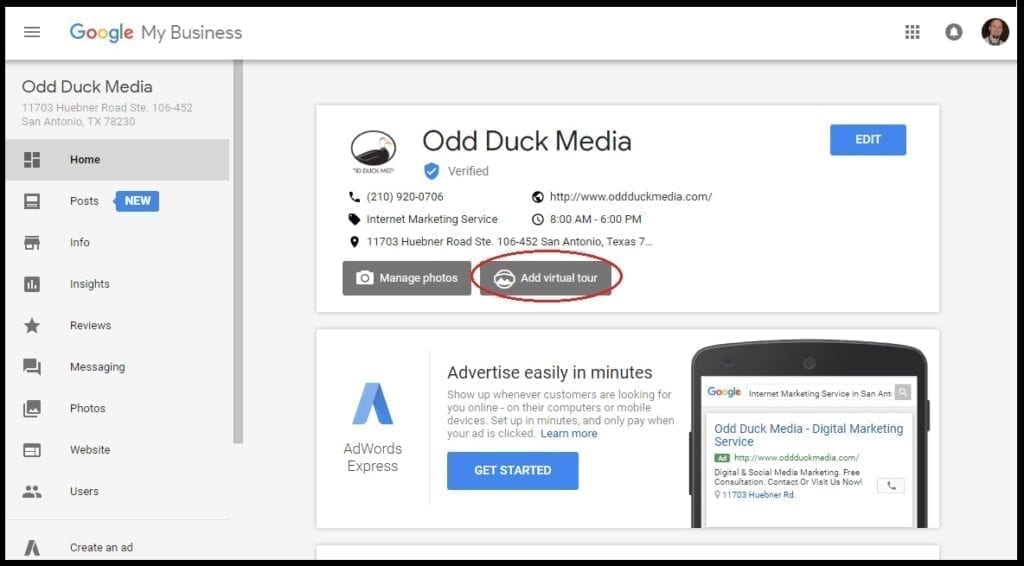 To set up a Google Virtual Tour, go to your Google My Business Dashboard and click on "Add 360 Virtual Tour." From there, you'll see a page pop up that gives an example of a virtual tour, as well as a link to "Request a Quote." Click that link and follow the steps requested.
After the photographer has finished, your photographer will help with uploading the files into the Google Street View editor so they can be shared on your Google My Business and your Google Maps listings.
Additionally, you'll get copies of the images and virtual tour that you can upload into your website and can use to further promote your business online.
Conclusion
Google My Business has come a long way in a relatively short amount of time and has emerged as a near necessity for any business looking to optimize their online presence and increase the amount of revenue generated through online marketing.
Using these features is not the end-all-be-all of digital marketing, but definitely helps to put your business in front of customers when they're actively looking for you and also gives them more information to help push them down the buying process.
Should you need any assistance with any of the above tasks, always feel free to reach out to a San Antonio Local SEO professional like our team here at Odd Duck Media. We're more than happy to help manage your Google My Business, or help with any other digital marketing needs that your business may have. That's why we've been named a Top San Antonio SEO Agency for 2018.