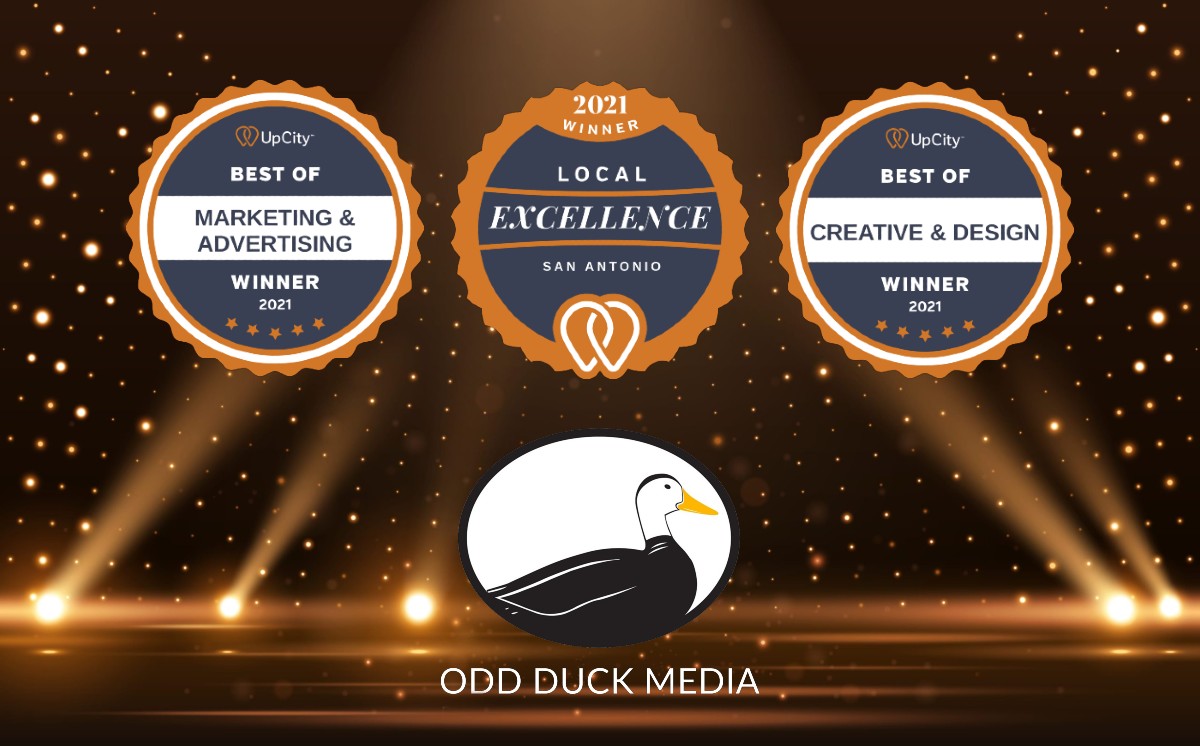 21 Oct

UpCity Recognitions for 2021

For many, the past 18 months or so have been a bit of a dumpster fire. Between the pandemic, social and political uneasiness, and some weirdly extreme weather, there's probably a good number of us around town who are happy to see the end of 2021 in sight. Here at Odd Duck Media, we're in pretty much the same boat. Through all the weirdness and uncertainty, we've had some successes, some changes, and some interesting developments. One of the things that has stayed constant, however, is the quality of our work for our clients and our refusal to provide anything less than our absolute best for them.

This past week, that effort was recognized by UpCity, as we were awarded not one, not two, but THREE separate recognitions from the tech company. To say we're honored would be a massive understatement.

First, we were recognized for our work in website design and branding by being named to the 2021 "Best of Creative and Design" list. This was a national list that included a total of about 100 businesses from every major market across San Antonio. To have our work recognized in this way is a huge honor and we're so proud to be included.

Next, we were also highlighted for our SEO, PPC and social media marketing capability by being included in the 2021 "Best of Marketing and Advertising" list. Again, this is a nationwide list that includes companies big and small from every corner of the nation. Don't tell anyone, but personally, I'm more proud to be recognized for this part of our business than for the web design, as our marketing and SEO savvy has direct and quantifiable benefits to our clients.

Finally, Odd Duck was honored to be called out as a Local Excellence Award winner. While this is a San Antonio-only category, we're still thrilled to receive this recognition, as it speaks to our engagement in our community and our commitment to serving our clients here in our local market.

While these are prestigious individual achievements, we want to also take a moment to show our appreciation to our clients. Many of these "best of" lists that we've been included on over the years are based largely off of customer reviews, and we appreciate every single client we've ever worked with for allowing us to be a part of their business journey. We understand that without them, our business wouldn't exist, and neither would these awards and achievements. From the bottom of our hearts, we want to say thank you to everyone who has been a part of this growth with us over the several years, and we promise to keep up the same level of persistence and hard work as we close out this year and move into even bigger and better things in 2022 and beyond!