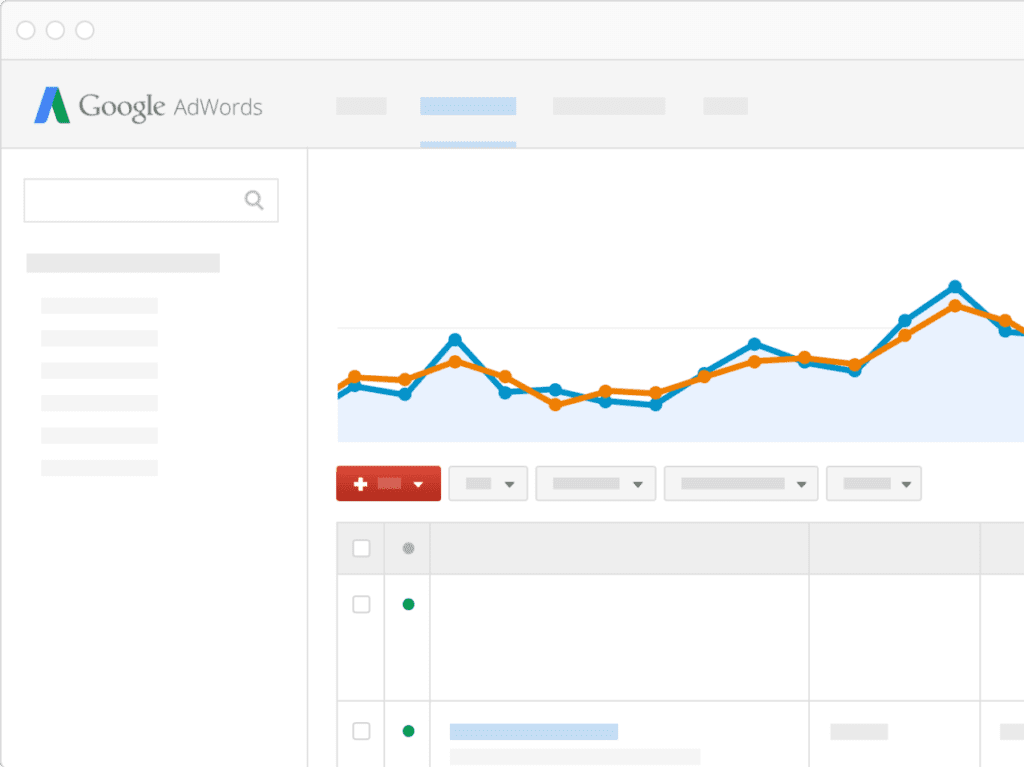 01 Dec

Why You Should Use Google AdWords Extensions

Run Your San Antonio Pay-Per-Click Campaign Smarter

When it comes to AdWords campaigns, more usually is better.  More keywords mean more opportunities for clients to see your ad. More ad variations mean you'll be able to A-B Test and see which ones are converting best. More Ad Groups mean more specific ads targeted at more specific objectives.

The same is true when you consider Google AdWords Extensions. If you're considering running a San Antonio Internet Marketing campaign, and you're going to include PPC/AdWords as part of that, you should absolutely, 100% be using extensions with your ads. Failing to do so may be part of the reason your ads aren't converting as well as they could be. Ad extensions give your customers more content to interact with – which means more opportunities for you to get a conversion – and also help make your ad stand out against the flat, plain-text ads of your competitors.

Lucky for you, there are several types of extensions that you can employ, and they all accomplish very specific goals. Even better, your San Antonio Web Marketing experts at Odd Duck Media know exactly how to incorporate extensions into your campaign to get the most bang for your buck and maximize your ROI. Below are the three absolutely essential Google AdWords extensions that you should ALWAYS set up with any new campaign.

1. Location Extensions

Location extensions are exactly what they sound like: they show your business location to customers without forcing them to click on your ad and go through your website. If you own a business that sells goods in a brick-and-mortar setting, you absolutely should be using Location Extensions. They'll help your customers find you, know where you're located, and could help you get a conversion without actually requiring a click. Below is an example of a location extension on one of our client's campaigns.

Another reason LocationEextensions are important is that they allow Google to show your ad on Google Maps searches. For example, the ad shown at the top of this list wouldn't be possible without Location Extensions.

Needless to say, Location Extensions are a huge boost your business if you're a brick-and-mortar business and should absolutely be included in any campaign you set up.
2. Call Extensions
Call Extensions are another example of an extension that every campaign should feature, but few seldom do. The Call Extension is simple: it shows your business phone number on the ad and allows customers to call your business directly by clicking on the number from their mobile device. Below is an example of a Call Extension.

As you can see, this extension clearly shows the business number directly in the text. For desktop searches, that means it's entirely possible that a customer may give your business a call straight from the ad without clicking the ad itself. In the world of PPC Marketing, that's a win-win-win. Your ad got seen: win. A client called your business (a conversion): win. You didn't have to pay for the click: win.
Maybe you don't get that lucky. If this ad were on a mobile device, the number would be click-to-call, which means a client could directly call you just by clicking on the link. While it's not as good as the scenario above, you still got an easy conversion from a highly motivated client. Seems like a solid win-win to me. Make it easy on yourself; use the Call Extensions.
3. Sitelink Extensions
Sitelink Extensions give your ad a better chance of standing out by simply adding more content to your ad. You get the opportunity to list links to pages and content within your site that you want to direct your clients toward. Think, for a moment, that you're RNR Auto Glass, a San Antonio Auto Glass Repair company that offers coupons and specials. You've got a page in your site that lists all your services, shows your coupons, and explains your selling points. Wouldn't you want to give a client the opportunity to click directly to your coupons page and see the promotions and specials that are available? Maybe send them directly to your services page? Point them directly to your sterling testimonials and reviews? Sitelink Extensions let you do that.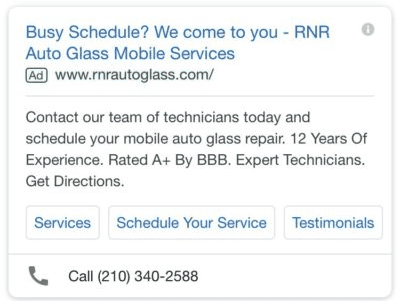 BONUS ROUND: Promotion Extensions
I know, I know. I said there were three essential extensions, but Google just rolled out a new tool that you really should be utilizing. The newest extension on the block is the Promotion Extension, which allows you to place promotions and specials directly into the ad content for your customers to interact with. Google has been beta-testing this feature for months, and it's finally gone fully live.
Setting up Promotion Extensions will allow you to showcase your best specials, products, and services all the while giving your ad a little bit more pop and sizzle for customers as they scroll over the SERP page. This can be a big-time game changer for the way customers interact with seasonal promotions and specials, and gives you a leg up on your competition who are still running plain-text ads. Below is a demo of what Google says the new feature will look like.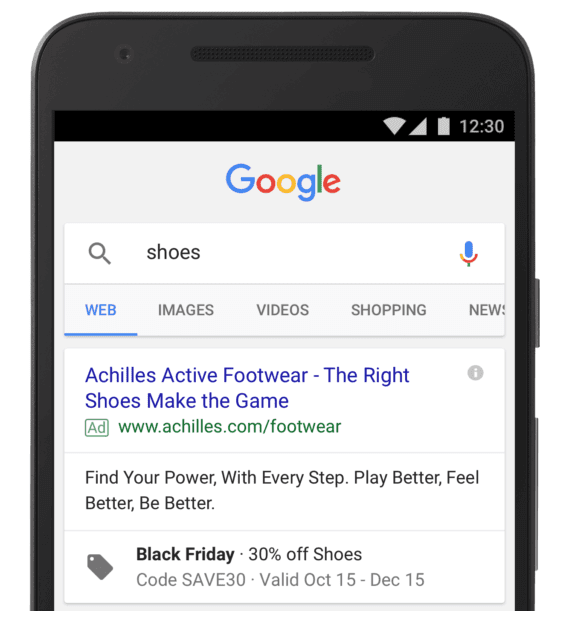 Summary
Overall, running a Google AdWords campaign without Ad Extensions is kind of like making mashed potatoes with no salt; it's not the least appealing idea you've ever heard of, but it's definitely missing something that would make it a whole lot better. When it comes to PPC Management, always consider beefing up your content, adding as many features and tools as possible, and consider the option of letting a professional team of San Antonio PPC Management Experts (like the guys at Odd Duck Media) run your campaign for you. Be sure to check back for more helpful tips and tricks, and happy marketing out there!